Encephalitis reached Chhattisgarh, Child died in Bastar
One of the three children who were reportedly detected with Acute Encephalitis Syndrome (AES) in Chhattisgarh died.
However, the state health department clarified that the three children were suffering from Japanese Encephalitis and not AES.
The health department has sent a special team to take stock of the situation in Bastar.
Dongargarh to get 50 Crore under Center's PRASAD Scheme
National Mission on Pilgrimage Rejuvenation and Spiritual Augmentation Drive (PRASAD) to beautify and improve the amenities and infrastructure at pilgrimage centres of all faiths.
Ma Bambleshwari Temple is the main attraction in the city besides it is situated on the Mumbai-Howrah train route.
With Hindus, Dongargarh is the center of faith for the Buddhist, Jain and Christian.
The main tourist centres are:

Statue of God Chandragiri on Bhagwan Mountain (Jainism)
Cross Mountain (Christianity)
Statue of Tribal God
Jata Shankar Temple (Hinduism)

The fund will be used for beautification of tourist centers, development of basic amenities and infrastructure in the city and to promote local culture.
Govt announced Sickle Cell Centers for every District
The Govt announced to develop a Screening and Counseling Center for every district during a program on the occasion of World Sickle Cell Day on 18 June. It will be attached to the District Hospital.
The Govt also announced to develop Health Department's Sickle Cell Institute, Raipur as a Center of Excellence with blood transfusion, stem cell therapy and haemoglobinopathy services.
Sickle Cell Anemia
1. It's an inherited form of anemia- a condition in which there isn't enough healthy red blood cells to carry adequate oxygen throughout your body.
2. In sickle cell anemia, the red blood cells become rigid and sticky and are shaped like sickles or crescent moons. These irregularly shaped cells can get stuck in small blood vessels, which can slow or block blood flow and oxygen to parts of the body.
3. There's no cure for most people with sickle cell anemia. But treatments can relieve pain and help prevent problems associated with the disease.

4. In India, the sickle cell gene is distributed mainly in Madhya Pradesh, Chhattisgarh, Maharashtra, Orissa, Jharkhand, parts of Andhra Pradesh, Kerala, Karnataka and Tamil Nadu.
5. In Chhattisgarh about ten percent (10%) of the population is suffering from this genetic disorder with the state's indigenous tribal population disproportionately affected. Gond tribe and Kurmi-Sahu communities are affected the most.

6. Individual suffering from sickle cell disease (HbSS) usually complain of repeated generalized body pain, anaemia, jaundice, repeated blood transfusion, pneumonia, repeated infection etc.
7. Their lifespan is usually reduced to 5-25 years. Hence, they require specific attention and treatment and care.
Further Reading | Further Reading
Shivani Jadhav won Miss Grand India 2019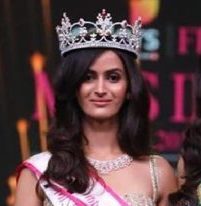 Shivani Jadhav from Raipur, Chhattisgarh won Miss Grand India 2019 in 59th Femina Miss India 2019.
She will represent India at Miss Grand International 2019 to be held in Venezuela.
She is a software engineer.
---