Tendu Leaves Purchase Started in Chhattisgarh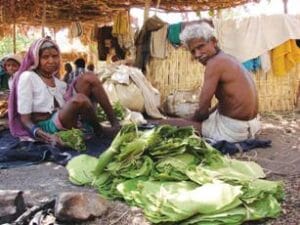 A good production of Tendu Leaves in Chhattisgarh with increase of MPS-Purchasing Price from Rs. 2500 to Rs 4000 per standard bag has made the stakeholders excited.
A standard Tendu leaves' bag has 1000 bundles with 50 leaves in each bundle in which 25-25 leaves are arranges facing oppositely.
After drying the leaves they are bundled and packed in bags. Water is sprayed on the bundles to prevent withering.
Tendu Leaves are known as 'Green Gold' amongst the tribals. Its sale gives tribal families who collect remuneration with periodic bonus and also many welfare schemes for them and their wards like insurance, scholarship, etc.
Indravati River Water Dispute
Indravati River including popular Chitrakot Waterfall is facing shortage of water in summer and people are campaigning to save Indravati.
There are dams constructed on the river in Navrangpur, Khatiguda and Mukhiguda. As a result, the river almost dried downstream in Bastar.
Origin: Munger Mountains, Kalahandi (Odisha)

Confluence: Godavari River near Bhadrakali, Bijapur (Chhattisgarh) froming Chhattisgarh-Maharashtra borders.
Total Length in Chhattisgarh: 370 km
130 km before entering Bastar, the water of this river was diverted in Jora Nala due to natural and human interference. Jora Nala connects Indrawati to Shabri River (also known as Kolab River).
An agreement was reached between Chhattisgarh and Odisha in Raipur on 24 December 2003 on equitable (50:50) water share during the post-monsoon period and to create a hydraulic control structure to normalize the flow of Indravati.
Construction of structures started by the Odisha Govt with financial assistance from Chhattisgarh, however, it is yet to be completed.
Chhattisgarh Govt has earlier demanded immediate installation of gauging devices at suitable locations by the Central Water Commission to ensure equal distribution of water as per the agreement between the two states.
First Police Officer Honoured under 'Indradhanush Yojana'
Inspector in- charge of Bhupdevpur Police Station (Raigarh), Chaman Lal Sinha became the first police officer to be honoured under Indradhanush Yojana by Chhattisgarh DGP D M Awasthi.
He, responding quickly, secured safety of around 56 school children who were attacked by Honeybees on their picnic trip by providing them mosquito nets for protection.
The 'Indradhanush Yojna' is being operated by the Police Department for the purpose of encouraging the morale of the police officers for their excellent works.
SWM Rules Implementation Committee Convened Meeting
Solid Waste Management Rules (2016) Implementation Committee Chairman retired Justice Dhirendra Mishra has directed for better management of waste from Railway colonies and stopping the discharge of drainage effluent in river Kharun.
The Committee was constituted on the direction of the National Green Tribunal (NGT), committee formed for Urban Solid Waste Management.
He directed Raipur Municipal Corporation (RMC) officials to stop the drainage from discharging effluent in river Kharun and to establish Sewerage Treatment Plant (STP) within limited time frame. Mishra made a critical remark on Railway Administration for showing callousness in waste disposal.
Kharun River Profile
Origin: Petechua Village, Gurur (Balod)
Confluence: in Shivnath River near Raipur
Flow: Balod, Durg, Raipur Districts
Retired Justice S K Agnihotri to probe MLA Mandavi's Killing
Justice Satish Kumar Agnihotri will head the probe committee to investigate the killing of late BJP MLA from Dantewada Bhima Mandavi.
Mandavi, the lone BJP MLA from Dantewada, along with four others was killed by Maoists while he was on way to a public meeting in Dantewada district on April 9, 2019.
S K Agnihotri has served as the Chief Justice of Sikkim High Court and a Judge of Bilaspur High Court.
Unemployment and Income both Low in Chhattisgarh
Chhattisgarh has the unemployment rate of 2.4% and the State has the fourth lowest unemployment rate in the nation after Karnataka, Kerala and Delhi. It has been revealed by Centre for Monitoring Indian Economy (CMIE).
The number of people unemployed in Chhattisgarh till March 2019 amounts to just 1,95,473.
But another disclosure is that, salary range of employees in the State is very low as compared to Southern States, Maharashtra, Gujarat, Delhi, Punjab and Haryana.
Various schemes like job fairs, skill development programs and creation of employability service centers in many districts of Chhattisgarh has been helping people to secure jobs.
---