Defence Satellite EMISAT Launched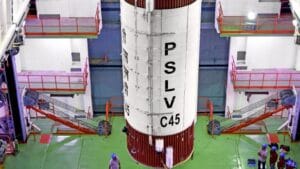 ISRO has successfully launched the 436 kg Electronic Intelligence Satellite (EMISAT) and 28 co-passenger satellites from Satish Dhawan Space Centre in Sriharikota, Andhra Pradesh.
The Polar Satellite Launch Vehicle (PSLV C-45) was used, which is a four-stage engine expendable rocket with alternating solid and liquid fuel.
An electronic intelligence satellite for the Defence Research and DRDO, intended for electromagnetic spectrum measurement.
It was injected into intended sun-synchronous polar orbit of 748 km height.
The Hump-Backed Mahseer is now 'Critically Endangered'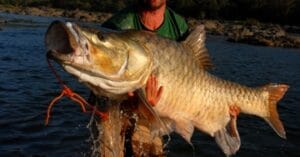 International Union for Conservation of Nature (IUCN) Red List of Threatened Species added hump-backed Mahseer (Scientifically Tor remadevii), also known as 'tiger of water' in critically endangered species list.
It is freshwater fish endemic to the Western Ghats of South India and only found in Kaveri River basins including Kerala's Pambar, Kabini and Bhavani rivers.
Ganga Gram Yojana  
1. Under the "Namami Gange" Programme, the government plans to develop the villages located along the main stem of river Ganga which have historic, cultural, and religious and/or tourist importance.
2. Among others it also aims at Conservation of priority species:
Fish: Snow trout, Golden Mahseer, Rohu, Katla, etc
Reptiles: Gharial and Gangetic Turtle
Mammal: River Dolphins and Otters
Birds: Indian Skimmer and Saras  
IUCN Red Data Book : Threatened Species Classification
1. The IUCN Red List of Threatened Species is the world's most comprehensive inventory of the global conservation status of plant and animal species. 
2. The IUCN Red List is recognized as the most authoritative guide to the status of biological diversity.
3. Threatened species are any species which are vulnerable to extinction in the near future.
4. International Union for Conservation of Nature (IUCN) treats threatened species not as a single category, but as a group of three categories: vulnerable, endangered, and critically endangered, depending on the degree to which they are threatened.  
The Longest Suspension Bridge 'Maitri' Constructed Over Indus
The Indian Army has achieved a record-breaking feat by constructing 'Maitri', the 260-feet longest suspension bridge over the Indus River in the Leh- Ladakh region in just 40 days.
It was built by combat engineers of the 'Sahas aur Yogyata' regiment of the Indian Army's 'Fire and Fury Corps'. 
Since the term 'Maitri' symbolises friendship, the bridge has been named Maitri bridge so as to symbolize the excellent civil-military relations between the military personnel and the locals of the Leh-Ladakh region.
In June 2018, the Border Roads Organisation(BRO) had built a 35-metre long 'Chamesahn' bridge leading to the base of the world's highest battlefield, the Siachen Glacier (under 'Project Himank') which in turn had eliminated a major issue of vehicular movement in this region.
Phayeng Village Became India's First Carbon-Positive Settlement
Phayeng, a scheduled caste village of the Chakpa community in Manipur has been tagged as India's first carbon-positive settlement. 
It has been resurrected from the dry and denuded village through the sheer determination of its residents and funding under National Adaptation Fund for Climate Change (NAFCC).
A village is given the carbon-positive tag if it sequesters more carbon than it emits, slowing the accumulation of greenhouse gases and mitigating the effects of climate change.
Pali Scholar Dr Shakya honoured Presidential Award  of Maharshi Badrayan Vyas Samman 2019
A Scholar of Pali, Dr. Gyanaditya Shakya, has been honoured with Presidential Award of Maharshi Badrayan Vyas Samman 2019 with prize money of INR 1,00,000 and a certificate. 
The Maharshi Badrayan Vyas Samman distinction is conferred on persons once a year on the Independence Day (15 August) in recognition of their substantial contribution in the field of Sanskrit, Persian, Arabic, Pali, Prakrit, Classical Oriya, Classical Kannada, Classical Telugu and Classical Malayalam.