Rates of PM's Scholarship Scheme enhanced
The Cabinet has approved major changes in the PM's Scholarship Scheme under the National Defence Fund. The rates of scholarship have been increased from Rs 2,000 per month to Rs 2,500 per month for boys and Rs 2,250 per month to Rs 3,000 per month for girls.
The scope of the PM's Scholarship has also extended to the wards of State Police officials who were martyred during the terror and naxal attacks.
This has been implemented under scheme of 'Prime Minister's Scholarship Scheme (PMSS)' for encouraging technical and post-graduate education for the widows and wards of the deceased and ex-service personnel of Armed Forces, Para Military Forces and Railway Protection Forces.
National Defence Fund
1. The National Defence Fund was set up in 1962 to take charge of voluntary donations in cash and kind received for promotion of the national defence effort, and to decide on their utilisation.
2. The Fund is used for the welfare of the members of the Armed Forces (including Para Military Forces) and their dependents.
3. The Fund is administered by an Executive Committee, with PM as Chairperson, and Defence, Finance and Home Ministers as Members.
4. Accounts of the Fund are kept with the Reserve Bank of India.
5. The fund is entirely dependent on voluntary contributions from the public and does not get any budgetary support.
Small Traders to get Rs 3,000 Monthly Pension
Cabinet has approved to give monthly pension of Rs 3,000 to small traders, businessmen, and shopkeepers after they attain the age of 60 years.
The aim is to provide universal social security to all shopkeepers, retail traders and self-employed persons a monthly pension under Pradhan Mantri Kisan Pension Yojana (PM–KPY).
All small shopkeepers, self-employed persons and retail traders who have Goods and Services Tax (GST) turnover below Rs 1.5 crore and also aged between 18 years to 40 years are eligible under the scheme.
The enrolment can be made through the Common Service Centre. The age wise contributions at enrolment are:

18 years: Rs 2 per per day

29 years: Rs 100 per month

40 years: Rs 200 per month
PM-KISAN Yojana extended to all eligible Farmers
Pradhan Mantri Kisan Samman Nidhi Yojana (PM-KISAN) has been extended to all eligible farmer families, irrespective of the size of their landholding. Earlier, it was applicable to farmers having two hectares of land.
The Cabinet also cleared pension schemes Pradhan Mantri Kisan Pension Yojana (PM-KPY) for farmers. It will provide a minimum fixed pension of Rs 3,000 per month to farmers above the age of 60 on contribution basis.
The enrolment can be made through the Common Service Centre. The age wise contributions at enrolment are:

18 years: Rs 2 per per day

29 years: Rs 100 per month

40 years: Rs 200 per month

The Pradhan Mantri Kisan Samman Nidhi (PM-KISAN) scheme will provide Rs 6,000 per year to small and marginal farmer families given in three installments of Rs 2,000 each.
Infant Mortality Rate (IMR) improved marginally
According to the sample Registration system (SRS), India's infant mortality rate declined by 9 positions from 42 in 2012 to 33 in 2017.
Madhya Pradesh and Assam had the worst IMR of 47 and 44 respectively while Kerala and Tamil Nadu recorded the lowest IMR of 10 and 16 respectively. While Chhattisgarh is one of the worst five states with IMR of 47 in 2012 to 38 in 2017.
India's IMR is even today worse than those of South Asian neighbours, Srilanka, Bangladesh, Nepal. The global average IMR is 29 and that for low and middle income countries, the category that India belongs to, is 34.
With IMR falling to 33, India is in the company of countries like Tajikistan (33), Botswana (34), Rwanda (32) and South Africa (32). China's IMR is 9.
Infant mortality rate (IMR) is the number of deaths per 1,000 live births of children under one year of age.
Union Fiscal Deficit at 3.4% for 2018-19
Government has met the fiscal deficit target of 3.4% for the Financial Year 2018-19. The fiscal deficit stood at 3.39% against the estimated rate of 3.4%.
It was met through reduction in government spending, which also contributed to GDP growth slowing to 5.8% in fourth quarter of FY19.
The data was released by the Controller General of Accounts (CGA). It works under the Ministry of Finance, Government of India.
The revenue shortfall was largely in income tax and the goods and services tax, the data showed. Non-tax revenue collections were just ahead of target.
The reduction in capital spending was marginal at about Rs 13,000 crore. The revenue deficit for the year was 2.34% of GDP against a revised estimate of 2.2%.
Measures of Government Deficit
Revenue Deficit:
Revenue deficit = Revenue expenditure – Revenue receipts

Fiscal Deficit:
Gross fiscal deficit = Total expenditure – (Revenue receipts + Non-debt creating capital receipts)
1. It is the difference between the government's total expenditure and its total receipts excluding borrowing
2. Examples of Non-debt creating capital receipts are recovery of loans and the proceeds from the sale of PSUs.
3. The fiscal deficit will have to be financed through borrowing.
Gross fiscal deficit = Net borrowing at home + Borrowing from RBI + Borrowing from abroad
4. Net borrowing at home includes that directly borrowed from the public through debt instruments (for example, the various small savings schemes) and indirectly from commercial banks through Statutory Liquidity Ratio (SLR).

Primary Deficit:
Gross primary deficit = Gross fiscal deficit – net interest liabilities
To obtain an estimate of borrowing on account of current expenditures exceeding revenues, we need to calculate it.
CAG Rajiv Mehrishi elected as External Auditor of WHO
The Comptroller and Auditor General (CAG) of India, Rajiv Mehrishi is elected as external auditor of the World Health Organization (WHO) for four years from 2020 to 2023. He takes the charge from the Supreme Audit Institution of Philippines.
This is the second major international audit assignment for the CAG this year following his selection for the post of External Auditor of Food and Agriculture Organization in Rome earlier this year in March 2019
Mehrishi is currently also on the Board of Auditors of the United Nations and Vice-Chair of the UN Panel of External Auditors.
Comptroller and Auditor General (CAG)
1. Art 148: Constitutional authority with sufficient independence to discharge his duty
2. Guardian of public purse, a friend philosopher and guide to PAC
3. Through audits, makes the govt accountable to the public
4. He advises the President with regard to prescription of the form in which the accounts of the Centre and the states shall be kept (Article 150).
5. He compiles and maintains the accounts of state governments. (In 1976, he was relieved of his responsibilities with that of the Central Government due to the separation of accounts from audit)
Sunil Chhetri became most Capped Indian Footballer
Indian professional footballer Sunil Chhetri has been named most capped football player surpassing the former Indian captain Bhaichung Bhutia's 107 international matches.
He is popularly known as Captain Fantastic, having scored the 2nd highest number of goals in international matches among active players after Cristiano Ronaldo.
He currently plays club football for Bengaluru FC in the Indian Super League.
e- Money Share in Payment Systems reaches 21.5%
According to a new report "Benchmarking India's Payment Systems", released by Reserve Bank of India (RBI) stated that the share of e-Money in India's payment systems raise to 21.5 percent in 2017 from 0.8 percent in 2012.
With 345.9 crore e-Money transactions, India was behind only Japan and US in 2017 with respect to volume of e-Money transactions.
The report noted that demonetization plays an important role to provide a better position of the payment system in India compared to other countries.
India has 26 percent of online transactions using e-Money, next only to China.
India's first Dinosaur Museum inaugurated in Gujarat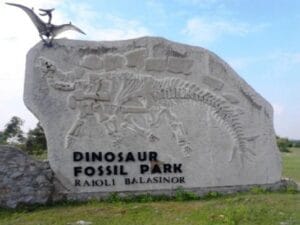 Gujarat Chief Minister Vijay Rupani inaugurated the new Dinosaur Museum-cum-Park at Raiyoli village in Balasinor town of Mahisagar district.
This is the first such park in the country and also the world's third park which exhibits remains of various dinosaurs and fossil records.
Raiyoli is familiar as it is the third largest fossil site and the second largest dinosaur hatchery. It contains several dinosaur fossils and egg finds in the 1980s. It is believed that the place and other spots surrounding it used to be a dwelling place for these gigantic creatures.
Chaukhandi Stupa declared a Monument of National Importance
Archaeological Survey of India (ASI) has declared Chaukhandi Stupa as a "Monument of national importance". The ancient Buddhist site is situated in Sarnath, Uttar Pradesh.
The stupa got its name Chaukhandi' because of its four armed plan. It is a lofty mound of brick whose square edifice is surrounded by an octagonal tower.
Chaukhandi Stupa was built during Gupta period to mark the place where Lord Buddha met his first disciples panchavargiya bhikshus (Budhha's five companions) who had previously deserted him at Rajgir, as he traveled from Bodhgaya to Sarnath.
Archaeological Survey of India
1. The Archaeological Survey of India is an Indian government agency attached to the Ministry of Culture that is responsible for archaeological research and the conservation and preservation of cultural monuments in the country.
2. It was founded in 1861 by Alexander Cunningham who also became its first Director-General.
3. The first systematic research into the subcontinent's history was conducted by the Asiatic Society, which was founded by the British Indologist William Jones on 15 January 1784.
NPP granted National Party Status by Election Commission
The Election Commission of India granted the National party status to National People's Party (NPP) led by Meghalaya Chief Minister Conrad K. Sangma.
It becomes the first Party from North East region to get this tag. It is getting status of the state party in four states such as Arunachal Pradesh, Manipur, Meghalaya and Nagaland.
With this tag, it becomes the 8th national party in the country among All India Trinamool Congress, Bharatiya Janata Party (BJP), BSP, CPI, Communist Party of India (Marxist), Indian National Congress (INC) and NCP.
Registration and Recognition of Political Parties
Registration of political party:
An application for registration to ECI within 30 days following the date of formation of the party. The application must be accompanied by rules and constitution of party, affidavits from at least 100 members of the party.

Recognized political party:
Registered party:
1. Political activity for a continuous period of 5 years
2. Has either At least 1 member to the Lok Sabha for every 25 members of that House or any fraction of that number from that State; or
3. At least 1 member to the Legislative Assembly of that State for every 30 members of that Assembly or any fraction of that number;
3. Not less than 6% of valid votes polled

National Party: Any one of the following
1. At least 6% of votes and 4 members to Lok Sabha
2. At least 2% of seats and members from at least 3 states
3. State party in at least 4 states

State Party: any one of the following
1. At least 8% of votes
2. At least 6% of votes and 2 members to assembly
3. At least 6% of votes and 1 member to Lok Sabha
4. At least 3% seats and 3 members to assembly
5. At least 1 member for every 25 in Lok Sabha seats allotted to state
Bancha became the First Solar Kitchen Village in India
Bancha in Betul district of Madhya Pradesh became the first village in India to have zero wooden stoves.
There was no use for Liquified Petroleum Gas (LPG) cylinders as all 75 houses relied on solar-powered stoves to meet their cooking needs.
The solar-powered stoves were developed by Indian Institute of Technology (IIT) Mumbai.
Amitav Ghosh honoured with 54th Jnanpith Award
Noted English Fiction writer Amitav Ghosh received the country's highest literary honour 54th Jnanpith Award in New Delhi.
Ghosh is known for his novels such as Shadow Lines, The Glass Palace, The Hunger Tide, River of smoke, Flood of Fire.
Amitav Ghosh is also recipient of the Padma Shri (2007) and Sahitya Akademi Awards.
Jnanpith Award
1. Instituted in 1961, it's a literary award presented annually by the Bharatiya Jnanpith to an author for their "outstanding contribution towards literature".
2. The award is bestowed only on Indian writers writing in Indian languages included in the Eighth Schedule to the Constitution of India and English with no posthumous conferral.
3. The first recipient of the award was the Malayalam writer G. Sankara Kurup who received the award in 1965 for his collection of poems, Odakkuzhal (The Bamboo Flute).
4. In 1976, Bengali novelist Ashapoorna Devi became the first woman to win the award and was honoured for the 1965 novel Pratham Pratisruti (The First Promise).
---