MoTA Revises MSP for Minor Forest Produces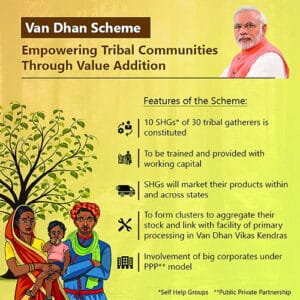 Tribal Affairs Minister Jual Oram launched the revised MSP for MFP for the welfare of Tribals at the National Workshop organized by TRIFED.
Minimum Support Price Scheme (MSP) for Minor Forest Produce (MFP) is a centrally-sponsored scheme aimed to ensure fair and remunerative price to MFP gatherers.
For the value addition of MFPs, better marketing opportunities under the Van Dhan Scheme, was launched last year.
The Ministry has asked the state government to prepare and share plan to procure and marketing of forest produce and up the Van Dhan centres meant to value add to forest produce to boost the market for products made from MFPs.
Van Dhan Scheme
1. It launched by Prime Minister on 14th April, 2018 during the celebrations of Ambedkar Jayanti at Bijapur Chattisgarh.
2. It aims at targeting livelihood generation for tribals by harnessing non-timber minor forest produces (MFP).
3. It will provide them skill up-gradation and capacity building training for value addition of forest produce. Value addition will ensure remunerative prices to tribals.
4. TRIFED will facilitate establishment of MFP-led multi-purpose kendras predominantly forested tribal districts. These kendras will be cluster of 10 SHGs comprising of 30 tribal MFP gatherers each.
Vizag to be New Railway Zone For Andhra Pradesh
A new railway zone Southern Coast Railway was announced by the Railway Minister, headquartered in Visakhapatnam.
It will be the 18th zone in the country.
First Indian-Origin Woman, Noor Inayat, to get Blue Plaque in UK
British Indian World War II spy, Noor Inayat Khan, the first Indian-origin woman to be honoured with a Blue Plaque at her wartime London home at 4 Taviton Street in Bloomsbury.
She was captured and killed by the Nazis in 1944 at the age of 30 years.
The Blue Plaque scheme run by English Heritage honours notable people who lived or worked in particular buildings across London.
Gurugram became Most Polluted City in 2018
Gurugram in the National Capital Region (NCR) emerged as the most polluted region in the world in 2018 as per 2018 World Air Quality Report.
15 of 20 most polluted cities in the world are in India. As per the report, Delhi is the most polluted capital in the world.
Bangladesh became the most polluted country closely followed by Pakistan and India.
Iceland, Finland, Australia were among the least polluted countries.