Retired Justice A K Sikri Appointed Chairperson of NBSA
The News Broadcasters Association (NBA) notified that Arjan Kumar Sikri, former Supreme Court judge has been appointed as the chairperson of the News Broadcasting Standards Authority (NBSA).
The NBSA is a self-regulatory body that implements the Code of Ethics and Broadcasting Standards and Guidelines for its member news broadcasters.
It is empowered to warn, admonish, censure, express disapproval and fine the broadcaster a sum upto Rs. 1 lakh for violation of the Code.
Arunachal Pradesh asked GSI to Drill for Minerals on China Border
The Geological Survey of India (GSI) in its report notified that the highest graphite reserves that is, around 35% of India's total Graphite reserves are found in Arunachal Pradesh.
Arunachal Pradesh has asked the Geological Survey of India (GSI) to explore the possibility of surveying and drilling for minerals along the India-China border as Beijing is carrying out "massive" mining activities very close to the border in the Tibet Autonomous Region.
The GSI's 2013 report, however, showed Arunachal Pradesh sits on 43% of the country's graphite resources followed by Jammu & Kashmir (37%), Jharkhand (6%), Tamil Nadu (5%), and Odisha (3%), But in terms of resources, Tamil Nadu led with 37% followed by Jharkhand with 30% and Odisha with 29%.
Graphite:

Graphite is a naturally-occurring form of crystalline carbon (Allotrope).

It is the only non-metal element that is a good conductor of electricity.

It is also known as a dry lubricant for its greasy feel.

Graphite has many industrial uses, particularly for products that need very high heat.
Kerala listed Masala Bond in Overseas Market
Kerala became the first state to tap into Masala Bond market by listing the Kerala Infrastructure Investment Fund Board (KIIFB)'s Masala Bond worth Rs 2,150 crore in London Stock Exchange (LSE)'s International Securities Market (ISM). The Masala Bond has a tenor of 5-year and a 9.723% coupon.
Masala Bond is a type of Off-shore rupee-denominated bond (debt instrument) by Indian entities in overseas markets.
How it works:

For example, a corporate could issue Rs. 10 billion worth of bonds with the promise of paying back Rs. 11 billion in one year.
As the Indian rupee has limited convertibility, the investors will lend the dollar equivalent of the Rs. 10 billion. After one year, the Indian corporate needs to pay back the dollar equivalent of Rs. 11 billion.
Thus, the currency risk is with the investor.
For issuers it offers the access to cheaper funding than what's available in the domestic markets.

ECBs Vs Masala Bonds:

In External Commercial Borrowings (ECBs), Indian companies raise money in foreign currency loans. Thus risk is with the borrower.
While ECBs help companies take advantage of the lower interest rates in international markets, the cost of hedging the currency risk can be significant.
In Masala bonds, the cost of borrowing can work out much lower.
Buddha Purnima Observed over the World
Buddha Purnima or International Day of Vesak 2019 was observed on 18th May 2019.
This day commemorates the birth anniversary of Gautama Buddha (or Lord Buddha) with 2 other major events of Buddha's life- Enlightment and Mahaparinirvana.
The International Buddhist Conference, held in Sri Lanka in November 1998 had notified that the Day of Vesak would be commemorated by the UN every year.
The UN General Assembly in 1999 has internationally recognized the Day of Vesak.
Vietnam Hosted 16th United Nations Day of Vesak Celebrations in May 2019.
All Women led Polling to Counting in Harda District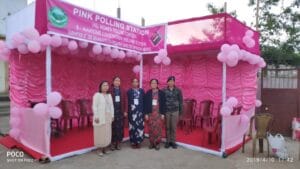 In Harda district of Madhya Pradesh, women will handle the entire work of counting votes. This first of its kind initiative was taken for the empowerment of women.
Harda district is a part of Betul parliamentary seat and the counting of votes of Timarni and Harda assembly segments will take place at Harda district headquarter.
84 women are being trained for counting in at Polytechnic College. Besides counting of votes, only the women will be deployed for the security of the counting centre.
Betul was voted on 6 May and the women had taken the responsibilities of voting in 60 all women polling booths in Harda district.
NITI Aayog pushes for AI Platform, Research Institutes
Niti Aayog has circulated a cabinet note to provide Rs 7,500 crore for the establishment of AIRAWAT, a cloud computing platform along with research institutes.
This is part of the policy think tank's proposal to create an institutional framework for artificial intelligence (AI) in the country.
According to the proposal, the funding would be used to set up five institutes or centres of research excellence (CORE), 20 international centres for transformational AI (ICTAI), along with AIRAWAT, a cloud computing platform that can be accessed by anyone.
It is estimated that AI will add $957 billion to India's GDP by 2035, boosting India's annual growth by 1.3 percentage points.
Kailash Mansarovar included in Tentative List of UNESCO World Heritage Sites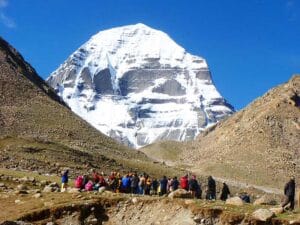 UNESCO has now included India's part of the famous Kailash Mansarovar in its tentative list of world heritage sites.
Kailash Mansarovar, located close to the source of some of the longest Asian rivers, entered the race for UNESCO World Heritage status in the mixed category, i.e., both as a natural, and as well as a cultural heritage.
The Indian portion of the Kailash landscape is located in Uttarakhand, and it has four major watersheds, namely, Panar-Saryu; Saryu-Ramganga; Gori-Kali; and Dhauli-Kali.
Indian pilgrims go on an epic journey to Mount Kailash, known as the Kailash Mansarovar Yatra, that takes them through the Lipulekh Pass in the Kumaun region.
UNESCO World Heritage Sites:
World Heritage Sites are important places of cultural or natural heritage as described in the UNESCO World Heritage Convention, established in 1972.
There are 37 World Heritage Sites located in India. These include 29 cultural sites, seven natural sites and one mixed site. India has the sixth largest number of sites in the world.
Click here to find the list of sites in India included in the list.
---