Vidarbha Clinched Ranji Title Defeating Saurashtra
Defending champions Vidarbha won the Ranji Trophy 2019 defeating Saurashtra.
This is Vidarbha's second successive victory.
The competition currently consists of 37 teams, with all 29 states in India and two of the seven union territories having at least one representation.
Mumbai has won the title the most 41 times, out of 85 seasons.
Boori Boot Yollo Festival Celebrated Arunachal Pradesh
Nyishi tribe celebrated Boori Boot Yollo Festival' with great enthusiasm to welcome spring and a successful harvest.
Nyishi is the largest community in Arunachal Pradesh.
The striking feature here is the giant assemblage of people cutting across the barriers of cast, creed, age and sex.
National Deworming Day Observed
National Deworming Day(NDD) is observed bi-annually on 10th February and 10thAugust every year in all states.
SinceFebruary 10 was Sunday, Ministry of Health and Family welfare notified that NDD will be observed on February 8th for the year 2019.
It is a single fixed-day approach to treating intestinal worm infections in all children aged 1- 19 years.
With adequate supply of Albendazole tablets at healthcare and Anganwadi centres.
MHRD to Implement Recommendations for the Promotion Maithili
The Ministry of Human Resource Development constituted a Committee in the year 2018 for making a report for the Promotion and Protection of Maithili Language and its scripts.
Ministry has decided to take immediate action on some of the recommendations like early completion of Unicode Scripts of Mithilakshar by TDIL and preparation of audio-visual teaching materials.
'Mithilakshar' or 'Tirhuta' is the script of a broader culture 'Mithila'. The scripts of the Mithilakshar, Bangla, Assamese, Nebari, Odia and Tibetan are part of the family.
The oldest form of Mithilakshar is found in the Sahodara Stone Inscriptions (950 AD).
NFDC Declared Winner under Miniratna Category
National Film Development Corporation of India (NFDC) was announced as the winner under the Miniratna Category by Ministry of Micro, Small and Medium Enterprises (MSME) in recognition for their work in promoting SC/ST entrepreneurs.
NFDC has funded over 300 films in various Indian languages.
Based in Mumbai, incorporated in 1975, it is a 100% owned Central Public Sector Undertaking.
'Clouded Leopard' to be Mascot for National Games 2022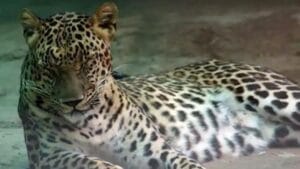 The Sports and Youth Ministry has chosen the 'Smiling Clouded Leopard' to be the Mascot for the National Games 2022.
Meghalaya will host the 2022 National Games, which is coinciding with its 50 years of statehood. Clouded Leopard is the state animal of Meghalaya.
It will be the third northeastern state after Manipur (1999) and Assam (2007) to host the National Games.