China Launched First Armed Amphibious Drone Boat 'Marine Lizard'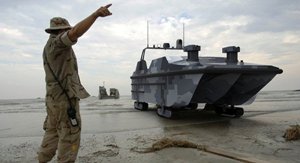 The world's first armed amphibious drone boat named "Marine Lizard", which is guided by China's BeiDou Navigation Satellite System has been successfully tested by China.
It has a maximum operation range of 1,200 kms and can be remotely controlled with the help of satellites.
It could be used in land and sea assault operations. The drone can autonomously sail, avoid obstacles, plan routes and its payloads include an electro-optical system and a radar system.
IMF and World Bank Launched Crypto-currency 'Learning Coin'
The World Bank and the International Monetary Fund (IMF) have launched a private blockchain and quasi-crypto currency called as "Learning Coin" for better understanding of blockchain technology and the function of crypto assets.
"Learning Coin" will be inaccessible outside the World Bank and the IMF and have no monetary value whatsoever, and is therefore not a real cryptocurrency, like bitcoin.
Third Planet Kepler-47d Joins Kepler-47 Circumbinary System
With the help of NASA's Kepler Space Telescope, a new Neptune-to-Saturn size planet orbiting between two previously known planets Kepler-47b and Kepler-47c has been detected. This new planet named as Kepler-47d.
According to a new study, Kepler-47d is about seven times larger than Earth and also the largest of the three planets in the Kepler-47 circumbinary system.
Kepler-47 Circumbinary System:

Only known multi-planet circumbinary system. Circumbinary planets are those that orbit two stars.
Kepler-47 is a roughly 3.5-billion-year-old system located 3,340 light-years from Earth.
One of its stars is quite Sunlike, but the other is considerably smaller, harboring just one-third the mass of our sun.
Nepal and Sri Lanka Launched their 1st Satellite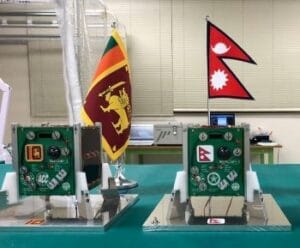 Sri Lanka and Nepal, have marked their entry in to space with the launch of their first ever satellites from the Mid-Atlantic Regional Spaceport at NASA's Wallops Flight Facility, Virginia (USA).
Sri Lanka's Raavana-1 satellite and Nepal's NepaliSat-1 are two nano-satellites will be used to send images of geographical areas of their respective countries from 400 km away while orbiting the earth.
Satellite had been taken to International space station (ISS) as a cargo from where they will be deployed to orbit the Earth.
The two satellites were designed and built at the Kyushu Institute of Technology in Japan by engineers from respective countries, with UN funding.
NASA initiated the launch of the country's own satellite under the BIRDS project of the Japanese Kyushu Institute of Technology. The BIRDS project has been designed in association with the United Nations and aims at helping countries launch their first satellite.
Mali's Govt Resigned after Ogossagou Massacre
The Mali government resigned after criticism over the handling of the rising violence in the country and Ogossagou massacre that resulted in the deaths of 160 people on March 2019.
On 2019 March 23, Dogon community, a hunting and farming community with a long history of tension with the nomadic herder Fulani people over access to land, were accused of being in killing of 160 Fulani people in Ogossagou, near the border with Burkina Faso.
The violence came in the aftermath of the Malian government cracking down on Islamic terror cells in the country.