Israel's First Moon Lander "Beresheet" Launched
Israel's first moon lander, "Beresheet" ("Genesis" in Hebrew), was launched from Florida, United States with the help of the private US-based SpaceX.
The project is funded almost entirely by donations making it the first privately backed lunar lander mission.
With this, Israel became the 4th country after Russia, USA and China to land a spacecraft on the Moon.
Zimbabwe Starts Trading New Currency RTGS Dollar
Zimbabwe's central bank announced the discontinuation of its official currency and launched a new currency called RTGS dollars, to resolve a long-term monetary crisis.
The new currency replaces electronic bank savings called digital dollars and the bond notes and was named after the real time gross settlement (RTGS) system that banks use to transfer money between each other.
The currency was launched at an initial rate of 2.5 RTGS dollars per US dollar.
The inflation peaked at 500 billion percent before the national currency was abandoned in 2009 in favour of the US dollar and other foreign currencies.
Abandoning its own currency ended inflation and brought some stability to the country but the supply of US dollar notes gradually dried up.
Afghanistan Starts Exporting through Chabahar Port
Afghanistan began exporting to India through the Chabahar port in Iran, for the first time by bypassing the Pakistan route.
Chahbahar port is connected to Zarang Lake (Afghanistan) through land route.
Afghanistan Scored the Highest Twenty 20 Cricket Total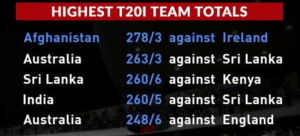 Afghanistan made history by scoring 278/3 against Ireland and broke Australia's record score of 263/3 (2016).
The match was played at the Rajiv Gandhi International Cricket Stadium in Dehradun, Uttarakhand.
India holds the fourth position by scoring 260/5 against Sri Lanka.