UAE launches Permanent Residency 'Golden Card' Scheme
The United Arab Emirates launched a permanent residency scheme to woo wealthy individuals and exceptional talents, a move that could attract more Indian professionals and businessmen to the Gulf nation.
The Golden Card offers unprecedented benefits to the cardholders and their families while creating an attractive environment for business and growth.
The new initiative will attract greater foreign investment and stimulate the local economy, making it more efficient and attractive for investors.
This came after Saudi Arabia approved Green Card 'Privileged Iqama'.
First Arabic Writer Jokha Alharthi Won Man Booker Prize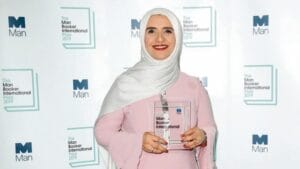 The first Omani woman and Arabic writer to win the Man Booker International Prize, Jokha Alharthi makes a strong case for art and artistry.
Her novel 'Celestial Bodies' tells the story of three sisters of a family with detours into Omani society and history.
Alharthi and her translator Marilyn Booth were jointly awarded the Man Booker International Prize 2019 for Celestial Bodies.
---