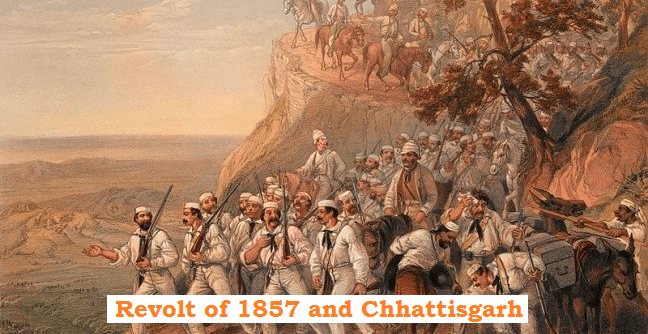 Revolt of 1857 was a culmination of the discontent, hatred and frustration of the people against the character and policies of British colonial rule.
Background in Chhattisgarh: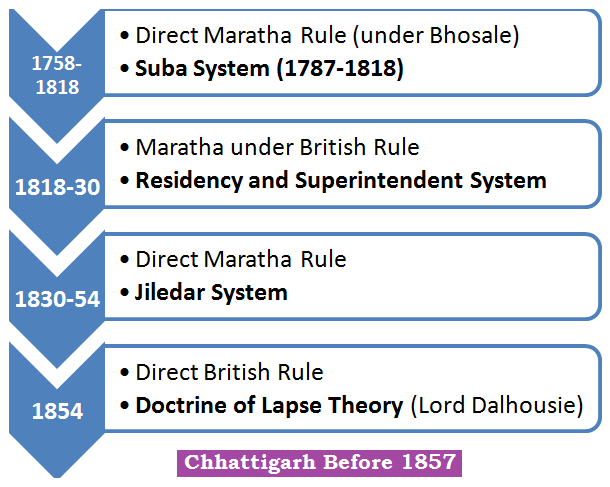 Chhattisgarh became a part of Maratha Empire in 1758 (Direct Administration).
Maratha were defeated in the Third Anglo-Maratha War and Treaty of Nagpur (1818) put Chhattisgarh under Indirect British Rule (Indirect Administration through Resident System).
As the Maratha Emperor- Raghuji III was minor, Superintendents were appointed to rule the Empire till 1830. After 1829 Treaty, direct Maratha Administration again started under Jiledars.
After the death of Raghuji III, Maratha Empire was annexed into the British Empire in 1854 by Lord Dalhousie as per his Doctrine of Lapse Theory and Deputy Commissioner was appointed for the administration of Chhattisgarh.
Lord Canning became the Governor General of India in 1856.
Main Revolts in Chhattisgarh
Sonakhan Revolt: (1856-57 AD)
Sonakhan was a zamindari of Maratha Empire, in the year 1856, famine occurred in Sonakhan, Veer Narayan Singh was the zamindar of Sonakhan. He looted grain stocks of a trader named Makhan Baniya from Kasdol and distributed it amongst the famine affected poor.
He was arrested by the British and put in prison. Veer Narayan Singh escaped the prison and reached Sonakhan to form an army of about 500 soldiers and started war against the British army.
Under Captain Smith the British army with the help of the Zamindars of Bhatgaon, Bilaigarh, Devri and Katangi succeeded to defeat Veer Narayan Singh.
He was arrested on 2nd December and later hanged on the 10th December, 1857.
Veer Narayan Singh
1. Birth: 1795; Place: Sonakhan (presently in Balodabazar District)
2. His father was Ram Sai from Binjhwar Rajput Zamindars
3. Death: hanged on 10th December, 1857 at present day Jai Stambh Chauk
4. Called as the first martyr of Chhattisgarh.
Sambalpur Revolt: (1827-1864 AD)
The King of Sambalpur Maharaj Sai died in 1827 AD without any heir and was Surendra Sai was a direct descendant from Madhukar Sai and was legally entitled to be crowned as king of Sambalpur.
But he was not acceptable to British power and ignored his claim for succession and made widow of Madhukar Sai Queen Mohan Kumari to succeed him. It was later followed by succession of Narayan Singh, a descendant of royal family of Barpali but born of low caste as king of Sambalpur.
He revolted against British raj for throne from 1827 when he was only 18 years of age and continued till 1864 when he was finally arrested in 1864- a total period of 37 years.
His area of revolutionary activities spread from Sambalpur to Bilaspur and Kalihandi.
He was imprisoned in Hazaribagh Jail for 17 years from where he escaped and in Asirgarh Jail for 20 years. where he died.
Surendra Sai
1. Birth: 23 January 1809; Place: Khinda (presently in Sambalpur District)
2. His father was Dharm Singh from Chauhan Dynasty
3. Death: died naturally on 23 May 1884 in Asirgarh Jail
4. Called as the last martyr of Chhattisgarh of 1857 Revolt.
5. The Jharsuguda Airport in Odisha is named as "Veer Surendra Sai Airport".
Sepoy Mutiny of Raipur: (1858 AD)
After the martyrdom of Veer Narayan Singh in 1857, there was widespread unrest in the region.
The Third Regular Regiment of British Army was stationed at Raipur where Hanuman Singh was working as Magazine Lashkar. He was only 35 years old.
With the help of his two friends he killed his military officer- Sergeant Major Sidwell on 18 January, 1858.
He provoked the fellow sepoys against the British and but only 17 sepoys accompanied him to enter the ammunition depot. The news of the death of Sidwell spread in the cantonment soon and British Army led by Lieutenant Smith surrounded them.
Hanuman Singh
1. Birth: 1823 AD, from Rajpur Family of Baisvada
2. Death: not known
3. British Government has announced a reward of Rs 500 on him if found dead or alive. But he was never captured.
4. Called as Mangal Pandey of Chhattisgarh
Udaipur Revolt: (1857-1859 AD)
Udaipur State was founded in 1818 as an offshoot of Surguja State.
In 1852, the King Kalyan Singh and his three brothers were arrested on the false charges of human sacrifice and were jailed in Ranchi.
When the 1857 Mutiny started, two brothers Dhiraj Singh and Shivraj Singh escaped from the jail. They reached Udaipur and with the help of local Zamindars, captured the state.
Dhiraj Singh ruled the state for about two years but was captured by the British Army in 1859 with the help of Raigarh King. He was given life imprisonment and sent to Andaman Jail.
Bindeshwari Singh Deo of Surguja State was declared the king of Udaipur in 1860 in lieu of his support to the British.
Lingagiri Revolt: (1856-57 AD)
It was a tribal armed revolt against the British interference in the Lingagiri (Bhopalpatanam).
It was led by Talukdar of Lingagiri Dhurvarao Madia during the reign of Bhairamdev (Kakatiya Dynasty).
On 3 March 1856, Dhurvarao was captured during battle with British at Chintalwar and was hanged on 5 March 1856.
It was accepted to the first armed revolt of Bastar Tribals and is known as the Great Freedom Struggle of Bastar.
Koi Revolt: (1859 AD)
It was a tribal revolt against the British contract to outsiders for felling Sal trees in the South Bastar region with was not accepted by the local Zamindars.
The contract was given to Nizam of Hydrabad. The contractors of cutting the trees were also known to exploit the innocent tribal people in many ways.
The people, led by Koi Tribe Zamindar of Kotkel Nangul Dorla revolted against the British during the reign of Bhairamdev (Kakatiya Dynasty).
They had the slogan 'Ek sal vriksh, ek sir barabar' (one sal tree, one head).
It was the first revolt where the British were defeated and abandoned the contract for felling of trees in the area.
---