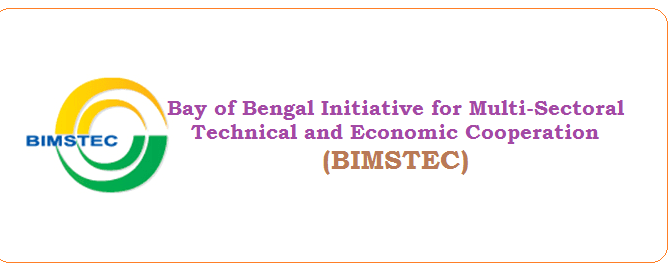 Bay of Bengal Initiative for Multi-Sectoral Technical and Economic Cooperation (BIMSTEC) is an international organization of seven nations of South Asia and South East Asia of Bay of Bengal Region- Bangladesh, India, Myanmar, Sri Lanka, Thailand , Nepal and Bhutan. It mainly aims to create an enabling environment for rapid economic development; accelerate social progress; and promote collaboration on matters of common interest in the region.
| | |
| --- | --- |
| Established | 1997 |
| Headquarters | Dhaka, Bangladesh |
| 1st Summit | July 2004, Bangkok (Thailand) |
| 4th Summit | August 2018, Kathmandu (Nepal) |
| 5th Summit | Next, Colombo (Sri Lanka) |
Background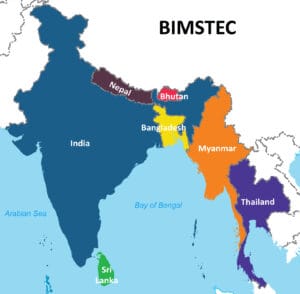 BIMSTEC started off as the Bangladesh, India, Sri Lanka, Thailand Economic Cooperation Group in 1997. Myanmar joined in 1997, while Nepal and Bhutan joined in 2004 when the first summit was held in Bangkok.
BIMSTEC is said to have been encouraged by India's Look East Policy (LEP) and Thailand's Look West Policy.
Objectives
Creating an enabling environment for the rapid economic development of the sub-region.
Encouraging the spirit of equality and partnership.
Promoting active collaboration and mutual assistance in the areas of common interests of the member countries
Accelerating support for each other in the fields of education, science, and technology, etc.
Help to increase the socio-economic growth of the member countries.
Areas of Cooperation
There are 14 main sectors of BIMSTEC along technological and economic cooperation where a member country takes lead. India is lead country for–

Transport & Communication
Tourism
Environment & Disaster Management
Counter Terrorism & Transnational Crime

Cooperation to one another for the provision of training and research facilities in educational vocational and technical fields.
Structure
Leadership is rotated in alphabetical order of country names. The permanent secretariat is in Dhaka. India provides 33% of its expenditure.
BIMSTEC planned to hold summits every two years, ministerial meetings every year.
Institutional Mechanisms for engagement among member nations:

BIMSTEC Summit- highest policymaking body in BIMSTEC process and is comprised of heads of state/government of member states.
Ministerial Meeting- second apex policy-making forum of BIMSTEC attended by the External/Foreign Ministers of Member States.
Senior Officials' Meeting- represented by Senior Officials of Foreign Ministries of the Member States.
BIMSTEC Working Group- attended by Ambassadors of BIMSTEC Member Countries to Bangladesh or their representatives on a monthly basis at the BIMSTEC Secretariat in Dhaka.
Business Forum & Economic Forum- the two important forums to ensure active participation of private sector.
Challenges
BIMSTEC does not seem to have made much progress, even though it largely devoid of bilateral tensions, as is the case in SAARC. Some of the challenges faced by it are:
Inconsistency in Meetings: BIMSTEC planned to hold summits every two years, ministerial meetings every year, but only four summits have taken place in 20 years up to 2018.
Neglect by member states: It seems that India has used BIMSTEC only when it fails to work through SAARC in the regional setting and other major members like Thailand and Myanmar are focused more towards ASEAN than BIMSTEC.
Broad Focus Areas: The focus of BIMSTEC is very wide, including 14 areas of cooperation like connectivity, public health, agriculture etc. It is suggested that BIMSTEC should remain committed to small focus areas and cooperate in them efficiently.
Bilateral Issues between member nations: Bangladesh is facing one of the worst refugee crisis of Rohingyas from Myanmar who are fleeing prosecution in the state of Rakhine in Myanmar. There is a border conflict between Myanmar and Thailand.
Lack of physical connectivity:
No FTA: BIMSTEC FTA was negotiated in 2004; talks on it are yet to be concluded.
Many regional groups: The formation of sub-regional initiatives, like the Bangladesh-China-India-Myanmar (BCIM) Forum, with the proactive membership of China, has created more doubts about the exclusive potential of BIMSTEC.
Advantage for India
Allows India to pursue three core policies:

Neighborhood First- primacy to the country's immediate periphery;

Act East- connect India with Southeast Asia;

Economic development of India's northeastern states- by linking them to the Bay of Bengal region via Bangladesh and Myanmar; infrastructural development of the NE India and fighting crimes such as terrorism, smuggling, narcotics, etc.

Pakistan and China do not form member countries and this grouping provides India an opportunity to increase its sphere of influence. It could be an alternative platform to SAARC which is defunct now due to India- Pakistan differences.
BIMSTEC could help India to further increase its cooperation with countries located around the Bay of Bengal along with two of its adjuncts, namely Malacca Straits and Andaman Sea.
Better integration with North East region and East Asian economies could be achieved.
The regional connectivity would facilitate cross-border movement of people and goods, reduce overland trade bottlenecks, ensure access and increase volume of trade.
It will help in cultural integration between all member countries because of their cultural unanimity.
Tourism too will get a boost in the region.
Significance of BIMSTEC
Home to around 1.5 billion people that constitute around 22% of the global population.
Now, with the collapse of the SAARC summit in Islamabad, 2016 the Bay of Bengal has turned into a zone of regional cooperation.
With rich history of maritime commerce across the Bay of Bengal and being high-end tourist∙ destination there exist enormous possibilities for regional economic cooperation among the members of the BIMSTEC and SAARC (minus Pakistan).
It is seen as a vital bridge between SAARC and ASEAN. Myanmar and Thailand are already in ASEAN while Japan is Thailand's second-biggest export destination.
SAARC Vs BIMSTEC
Factors
SAARC
BIMSTEC
Members
From South Asia
From South and South East Asia
Established
1985
during the cold war era.
1997
in the post-Cold War
Relations
Mistrust and suspicion
Reasonably friendly relations
Politics
Regional politics affected
Focus on economic cooperation
Power
Balance
Asymmetric
power balance
Balancing of power
with the presence of
Thailand and India on the bloc
Achievements
Important Connectivity Projects:
Kaladan Multimodal Project: links India ports and Sittwe port in Myanmar.
Asian Trilateral Highway: connecting India and Thailand through Myanmar.
Bangladesh-Bhutan-India-Nepal (BBIN) Motor Vehicles Agreement: for seamless flow for regional integration and development of the region.
BIMSTEC Free Trade Area Framework Agreement (BFTAFA):
It has been signed by all member nations to stimulate trade and investment in the parties, and attract outsiders to trade with and invest in BIMSTEC at a higher level.
Subsequently, the "Trade Negotiating Committee" (TNC) was set up, with Thailand as the permanent chair, to negotiate in areas of trade in goods and services, investment, economic co-operation, trade facilitations and technical assistance for LDCs.
Negotiations under progress!
BIMSTEC Coastal Shipping Agreement:
Its draft was discussed on 1 December 2017 at New Delhi, to facilitate coastal shipping within 20 nautical miles of the coastline in the region to boost trade between the member countries.
Compared to the deep sea shipping, coastal ship requires smaller vessels with lesser draft and involves lower costs.
Ratification under progress!
---