'Hamar Hathi Hamar Goth' to avoid Wild Elephants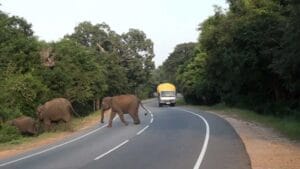 It is a special radio programme run by wild life experts since 2016 in northern Chhattisgarh. 
'Hamar Hathi Hamar Goth' is a 5-minute programme broadcasts from All India Radio (AIR) Ambikapur, Ragiarh and Raipur stations on daily basis. It airs the every-day location of wild elephants.
They also have a 'Hathi Mitra Dal' team from the local communities living in elephant sensitive zones.
They maintain a complex  network of WhatsApp group which involves forest  department officials, 'Hathi Mitra Dal' members, local bodies representatives and local influencers in Surguja region to reach over 20,000 people living in elephant sensitive zone.
Chhattisgarh got Second Position in FRA Claims
Chhattisgarh has become the second State in the country to provide rights to Scheduled Tribes and other traditional forest dwellers to acquire forestlands, according to Union Tribal Affairs Ministry.
Odisha is the number one State in distribution of forest rights certificates while Maharastra is number one in providing recognition to forestlands. Chhattisgarh, on the other hand comes number two in the list of both the categories.
Achanakmar Tiger Reserve declared Eco-Sensitive Zone
The Ministry of Environment on Friday approved 13 wildlife sanctuaries, including one tiger reserve in Chhattisgarh, as eco-sensitive zones (ESZ) for scientific conservation of the ecosystem.
This scientific demarcation of final Eco-Sensitive Zones and 10 km from the Protected Areas will help farmers, artisans, rural people, small businesses as the uncertainty has now gone.
Eco-Sensitive Zones (ESZ)
1. Eco-Sensitive Zones or Ecologically Fragile Areas are areas within 10 kms around Protected Areas, National Parks and Wildlife Sanctuaries.
2. ESZs are notified by MoEFCC, Government of India under Environment Protection Act 1986.
3. The basic aim is to regulate certain activities around National Parks and Wildlife Sanctuaries so as to minimize the negative impacts of such activities on the fragile ecosystem encompassing the protected areas.  
Revised Wild Elephant Population Census 2017 released
According to the revised state-wise wild elephant population estimate based on the 2017 census, jumbo population across the country stood at 29,964 against 29,576 recorded as the mean figure in 2012.
South India had the highest number of wild elephants- 14,612. Among the south Indian states, Karnataka leads the table with 6,049 elephants followed by Kerala. 
In Chhattisgarh, they are found in 3 forest divisions out of 6 divisions- Surguja, Bilaspur and Raipur. The highest population of elephants is found in Surguja Division.
---