Delhi-Lucknow Tejas Express to be India's First Private Train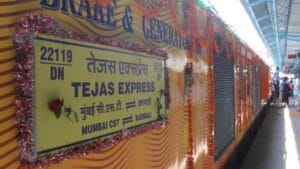 The Delhi-Lucknow Tejas Express would be the first train to be operated by private players.
The train will be handed over to private players after an open-bidding process for operating it.
The custody of the trains will be transferred to the Indian Railway Catering and Tourism Corporation (IRCTC), which will pay for it, including their lease charges, to the financing arm, IRFC.
The Tejas Express will offer premium services and comforts to the passengers.
Rahul Dravid appointed as Head of Cricket at National Cricket Academy
Former India captain Rahul Dravid was appointed as Head of Cricket at the National Cricket Academy (NCA), the BCCI has announced.
He will oversee all cricket related activities at NCA and will be involved in mentoring, coaching, training and motivating players, coaches and support staff at the NCA.
He will also work closely with the National Men's and Women's Head Coaches and Cricket Coaches for India Developmental teams.
Environment Panel Nod for Uranium Exploration in Telangana
A panel under the Ministry of Forest and Environment has recommended for "in-principle" permission for exploration of Uranium in Amrabad Tiger Reserve in Telangana.
Full and necessary permission is required for the department to allow exploration in the Tiger Reserve. The complete proposal will be placed before the Competent Authority for approval.
Uranium Deposits in India
1. Largest viable deposits are found in Australia, Kazakhstan, and Canada. India imports thousands of tonnes of uranium from Russia, Kazakhstan, France.
2. In India, Uranium deposits occur in Singhbhum and Hazaribagh districts of Jharkhand, Gaya district of Bihar, and in the sedimentary rocks in Saharanpur district of Uttar Pradesh.
3. Uranium and Thorium are the main atomic minerals. Other atomic minerals are beryllium, lithium and zirconium.
4. The largest source of uranium comprises the monazite sands. Monazite sands occur on east and west coasts and in some places in Bihar. But the largest concentration of monazite sand is on the Kerala coast.
AIFF Awards 2019
Women's footballer Ashalata Devi won the women's footballer of the year prize as the All India Football Federation (AIFF) announced awards for the 2018-19 Season.
Sunil Chhetri was declared as the men's footballer of the year. This is the third consecutive footballer of the year win for Chhetri and his seventh honour in men's category.
Chhetri recently surpassed Argentine striker Lionel Messi to become the second highest active goal-scorer in international football.
Sahal Abdul Samad was declared as the emerging player of the year in the men's category whereas Manipur's Dangmei Grace was announced as the emerging player of the year in the women's category.
Honour for Railway's 'Plan Bee' that helped save Jumbos
Northeast Frontier Railway's (NFR) 'Plan Bee', a strategy of using an amplified version of honey bees sound to keep wild elephants away from train tracks won the " Best innovation award" of Indian Railways for 2018-19.
Plan bee was launched in 2017 and devices were installed at several level crossings in Assam to play the sound of buzzing honey bees to drive away elephants from the rail tracks. This device is designed to generate the sound of honey bees from a distance of about 700-800 m.
There are 29 earmarked elephant corridors with the operating zone of NFR spread across the north-eastern states and parts of Bihar and West Bengal.
India improved on Poverty in 10 Years
According to the Global Multidimensional Poverty Index (MPI) 2019 by the United Nations Development Programme (UNDP) between 2006 and 2016, India registered a fastest reduction of poverty rate from 55.1% to 27.9% and lifted 271 million (from 640 million to around 369 million) out of poverty.
India's MPI value reduced from 0.283 in 2005-06 to 0.123 in 2015-16.
The poverty reduction was measured on a significant drop in some deficiencies of the 10 indicators, namely nutrition, sanitation, child mortality, drinking water, years of schooling, electricity, school attendance, housing, cooking fuel and assets.
Jharkhand is among the poorest regions in the world improving the fastest (poverty reduction from 74.9% to 46.5%) followed by Rattanak Kiri in Cambodia.
Indian Scientists developed Wonder Material 'Black Gold'
Indian scientists have played around with Gold (Aurum) and have created something called a 'black gold' which can potentially be used for applications that range from harvesting solar energy to desalinating seawater.
Scientists at the Mumbai based Tata Institute of Fundamental Research (TIFR) rearranged size and gaps of gold nano-particles to develop a new material that can absorb both light and carbon dioxide.
Black gold could catalyze and convert carbon dioxide into methane at atmospheric pressure and temperature using solar energy.
SBI's Anshula Kant appointed as MD and CFO of World Bank
Anshula Kant, the managing director (MD) of the State Bank of India (SBI) has been appointed as Managing Director (MD) and Chief Financial Officer (CFO) of the World Bank (WB).
Since September 2018 she has been a Managing Director and member of the World Bank Board.
As Managing Director and Chief Financial Officer, Kant will be responsible for financial and risk management of the World Bank Group, reporting to the President.
She is a graduate in Economic Honours from Lady Shri Ram College for Women and a Post-Graduate in Economics from Delhi School of Economics.
Dutee Chand became First Indian Woman to win 100m Gold at the Universiade
Dutee Chand, the Indian sprinter won the 100m gold medal in the 30th Summer Universiade (University Games) in Naples, Italy, becoming the first Indian to do so.
Chand won the gold medal in just 11.32 seconds. She also holds the 100m national record with 11.24 seconds.
She is the third Indian woman to ever qualify for the Women's 100 metres event at the Summer Olympic Games 2016.
She hails from Jajpur district of Odisha and belongs to a below poverty line weavers family.
Hima Das won Gold Medals at International Athletics Meets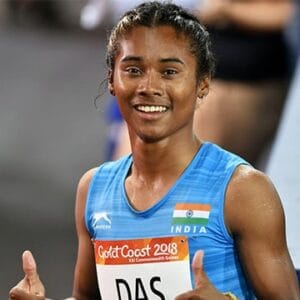 Hima Das won the women's 200m event for her third international triumph in less than two weeks at the Kladno Athletics Meet in Czech Republic. This was her third international gold in 11 days.
In her first competitive 200m race of the year, won gold at the Poznan Athletics Grand Prix in Poland on July 2. After that, she won her second 200m gold at the Kutno Athletics Meet, also in Poland, on July 7.
She hails from Assam, nicknamed the Dhing Express.
She holds the current Indian national record in 400 metres with timing of 50.79 s that she clocked at the 2018 Asian Games in Jakarta, Indonesia. She is the first Indian athlete to win a gold medal in a track event at the IAAF World U20 Championships.
---