Internet Saathi Program extended to Punjab and Odisha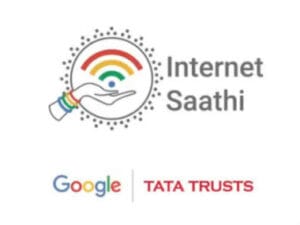 Internet Saathi initiative, a collaborative programme of Google India and Tata Trusts, will be expanded to villages in Punjab and Odisha.The initiative aims to facilitate digital literacy among women in rural India.
Launched as a pilot in Rajasthan in July 2015, Google and Tata Trusts had announced ambitious plans to scale up the programme to cover 3 lakh villages across India in December 2015.
About 70% of Saathis believe they are seen as a source of information in their village– people approaches them consistently for answers, to help children with schoolwork, to learn new cooking recipes, search for jobs, or to run a business.
The study also showed that the programme led to a level of independence that creates financial opportunities for women to pursue their dreams.
The initiative is functioning in Rajasthan, Gujarat, Jharkhand, Andhra Pradesh, Uttar Pradesh, Assam, West Bengal, Tripura, Maharashtra, Madhya Pradesh, Bihar, Haryana, Tamil Nadu, Goa, Karnataka, Uttarakhand, Chhattisgarh and Telangana.
12 Beaches selected for 'Blue Flag' Challenge by MoEF
The Union Environment Ministry has selected 12 beaches in India to vie for a 'Blue Flag' certification, an international recognition conferred on beaches that meet certain criteria of cleanliness and environmental propriety.
These beaches are at Shivrajpur (Gujarat), Bhogave (Maharashtra), Ghoghla (Diu), Miramar (Goa), Kasarkod and Padubidri (Karnataka), Kappad (Kerala), Eden (Puducherry), Mahabalipuram (Tamil Nadu), Rushikonda (Andhra Pradesh), Golden (Odisha), and Radhanagar (Andaman & Nicobar Islands).
Blue Flag Certification
1. The Blue Flag Programme for beaches and marinas is run by the international, non-governmental, non-profit organization the Foundation for Environmental Education (FEE).
2. It started in France in 1985 and has been implemented in Europe since 1987 and in areas outside Europe since 2001, when South Africa joined.
3. Japan and South Korea are the only countries in South and southeastern Asia to have Blue Flag beaches. Spain tops the list with 566 such beaches; Greece and France follow with 515 and 395, respectively.
4. There are nearly 33 criteria that must be met to qualify for a Blue Flag certification, such as the water meeting certain quality standards, having waste disposal facilities, being disabled- friendly, have first aid equipment, and no access to pets in the main areas of the beach. Some criteria are voluntary and some compulsory.  
India's Current Account Deficit shoots up to USD 68 billion
India's current account (CA) balance deficit rose to USD 68 billion in 2018-19 from USD 49 billion in 2017-18 according to the International Monetary Fund (IMF), which said the deficit was justified by development needs.
India's overall international reserves stood at USD 411.9 billion at the end of March 2019 from USD 12.5 billion in March 2018.
Chief Economist Gita Gopinath also found that India's Net International Investment Position had slightly improved with the deficit coming down from USD 438 billion in 2017-18 to USD 431 billion in 2018-19.
India's low per capita income, favourable growth prospects, demographic trends, and development needs justify running CA deficits.
The IMF said that India has to attract more stable sources of financing to reduce vulnerabilities. To attract FDI, it suggested improving the business climate, easing domestic supply bottlenecks, and liberalizing trade and investment. These would help improve the CA financing mix, and contain external vulnerabilities.
Also read: What is Current Account Deficit (CAD)?
UGC Scheme "Paramarsh" launched for improving Accreditation
Ramesh Pokhriyal 'Nishank', Union Minister for Human Resource Development (HRD) launched a Scheme called "Paramarsh" of University Grants Commission (UGC) in New Delhi.
This scheme aims at mentoring National Accreditation and Assessment Council (NAAC) accreditation aspirant institutions to develop quality assurance in Higher Education.
The Scheme will be implemented through a "Hub & Spoke" model where mentor institution -called 'Hub' has the responsibility of guiding mentee institution (through secondary branches 'Spoke') for self-improvement.
The scheme also proposes to provide financial assistance to the mentoring institutions and the option of appointing an expert, who can be paid a fellowship amount of Rs 31,000 per month.
For mentoring, the scheme targets 1000 Higher Education Institutions.
Three-time Delhi CM Sheila Dikshit passed away
Former three-time chief minister of Delhi from Congress Sheila Dikshit passed away at the age of 81.
Born in in Kapurthala, Punjab, she had served as the president of Delhi Congress, chief minister of Delhi for 15 years from 1998-2013 and the governor of Kerala.
She was appointed as the president of Delhi Pradesh Congress Committee in 2019 and contested in the 2019 Lok Sabha election against Bharatiya Janata Party's Manoj Tiwari from the North-East Delhi parliamentary seat.
---