Extreme Water Stress affects 25% World's Population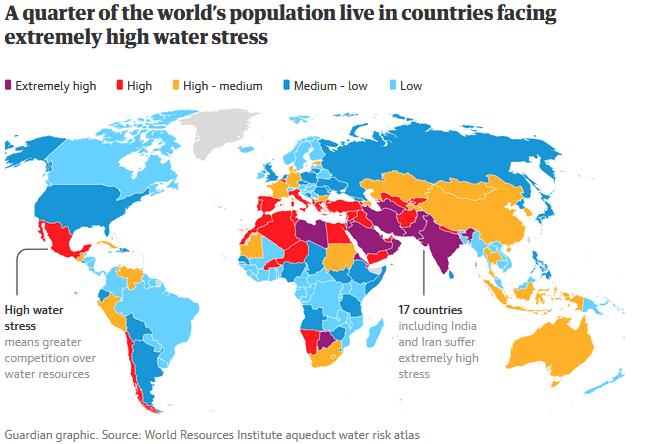 According to the World Resources Institute (WRI) Report a quarter of the world's population across 17 countries are living in regions of extremely high water stress. It warned that a measure of the level of competition over water resources that increasing water stress could lead to more 'day zeroes'– a term that gained popularity in 2018 as Cape Town in South Africa came dangerously close to running out of water.
Qatar, Israel and Lebanon were ranked as the most water stressed countries in the world. India ranked 13th in the report of countries facing extreme water crisis.
This water crisis if not taken immediate actions has high possibilities of food insecurity, conflict and migration, and financial instability.
Day zero does not mean that there is no water in our dams; it means however that the dams are at a crucial low level. The crucial low means that dam storage will be at 13.5%. This is when the city will turn off most taps leaving only vital services with access to water.
Steve Smith became 2nd fastest to score 25 test centuries
Australian cricketer Steve Smith has become the second-fastest batsman to score 25 test centuries during the second innings of the first Ashes test match against England.
Smith recorded his 25th century in 119th innings and went past Indian skipper Virat Kohli who had achieved the feat in 127 innings. The chart is topped by Australian cricketer, Sir Don Bradman.
Smith recorded this feat in his 119th innings whereas Sir Don Bradman achieved this feat in just 68 innings.
India slipped to 7th largest economy in the world in 2018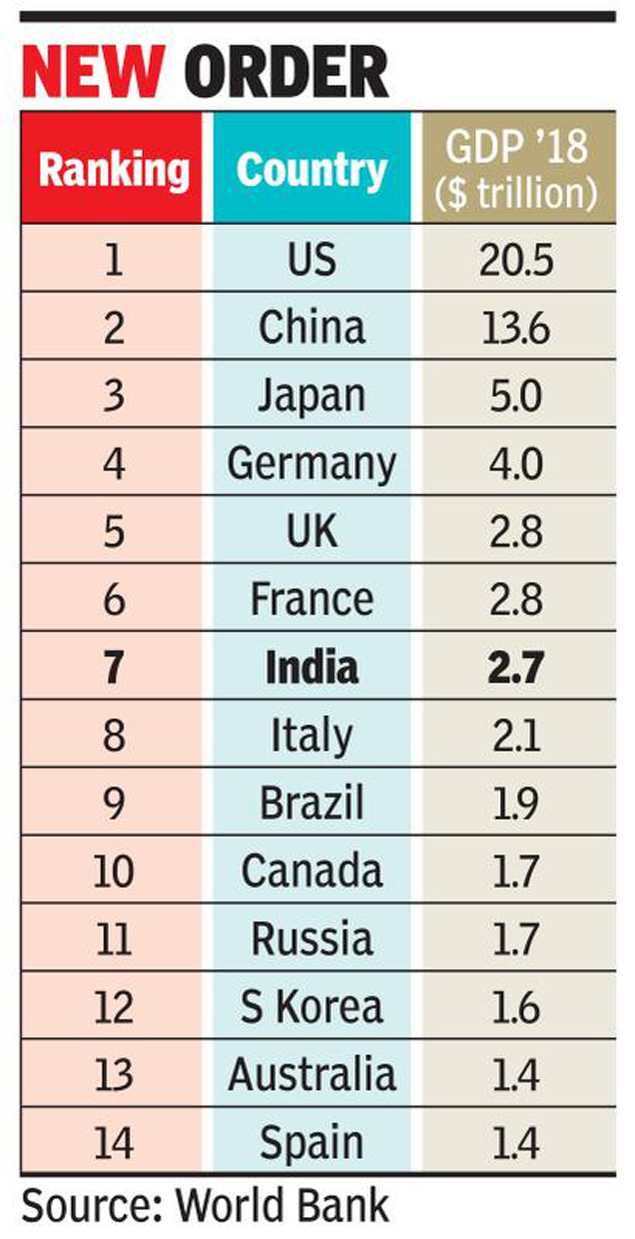 The World Bank data for 2018 showed that India is the 7th largest economy in the world with GDP of $2.73 trillion.
In 2017 with GDP of $2.65 trillion, India had overtaken France as the sixth largest economy. According to news reports, India had also overtaken the United Kingdom for a short while.
Earlier this year, India lost the fastest growing economy tag, falling behind China. Growth during 2018-19 declined to 6.8% from 7.2% a year ago.
Currency fluctuations and a slowdown in GDP growth were the key reasons behind the fall in global GDP rankings. India's exports have also fallen and remained negative. Domestic demand is subdued.
---